Wooden windows
in Hampshire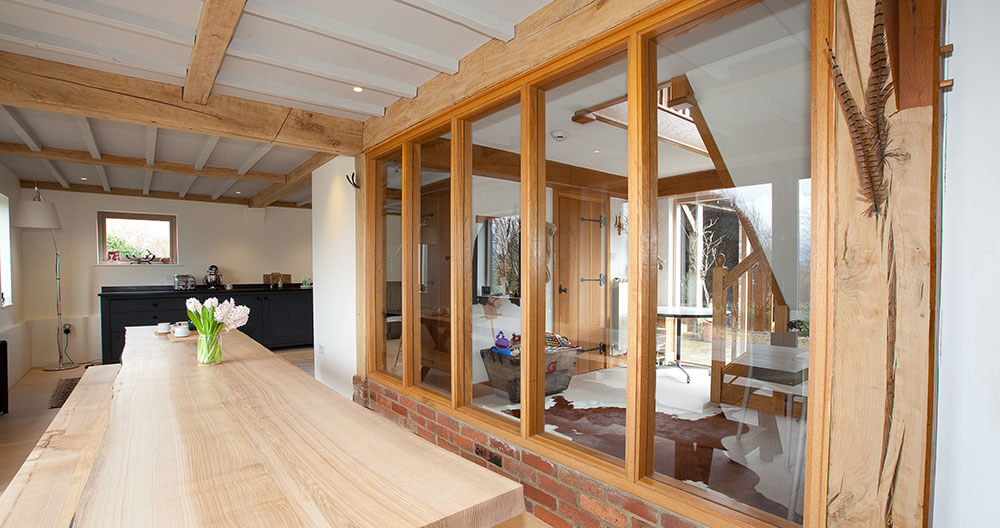 We design, manufacture, and install bespoke wooden windows of all types and sizes for customers throughout Hampshire. With more than 100 years of combined joinery experience within our team, we understand exactly how to achieve the stunning results you're looking for. All our wooden windows are double glazed and made-to-measure to ensure that they're the ideal fit for your property and are tailored to your requirements. We ensure that property owners in Hampshire can invest in beautiful wooden windows that have been built to last.
What wooden window options do we offer Hampshire customers?
We offer bespoke wooden windows in a range of styles, ensuring that you can find an option that meets your requirements and suits your property perfectly.

Casement windows can be constructed in a number of different configurations, giving you control over hinge placement and the number of openings. These windows are secure, energy efficient, and aesthetically pleasing.

Highly similar to casement windows in both appearance and construction, these stormproof windows provide extra protection against the weather, making them the ideal choice for properties that are on the coast or heavily exposed to the elements.

We specialise in bespoke wooden sash windows . The vertical sliding sashes within this design are hung using cords and are known for their traditional appearance. Sash windows are an essential way to preserve the character of historic properties.
What makes New Forest Joinery the right choice for wooden windows in Hampshire?
With more than 100 years' combined joinery experience within our team, all our customers benefit from our extensive hands-on expertise.
All our windows are made-to-measure so that they're the perfect fit for your property. Our expert joiners will enhance your home using their high-quality craftmanship.
We are a successful local business that has benefits from word-of-mouth recommendations from our previous customers. We deliver exceptional results that exceed expectations, every single time.
We've built a reputation for the quality of our workmanship. By combining traditional methods with modern machinery, our joiners produce wooden windows and doors that are durable and meticulously crafted.
Extensive Hampshire wooden
window expertise
We pride ourselves on our team's joinery knowledge and expertise.
Offering everything from installation through to repairs and replacement wooden windows, we have the skills to build and maintain the ideal wooden windows for your Hampshire property.