Wooden bi-fold doors
in Hampshire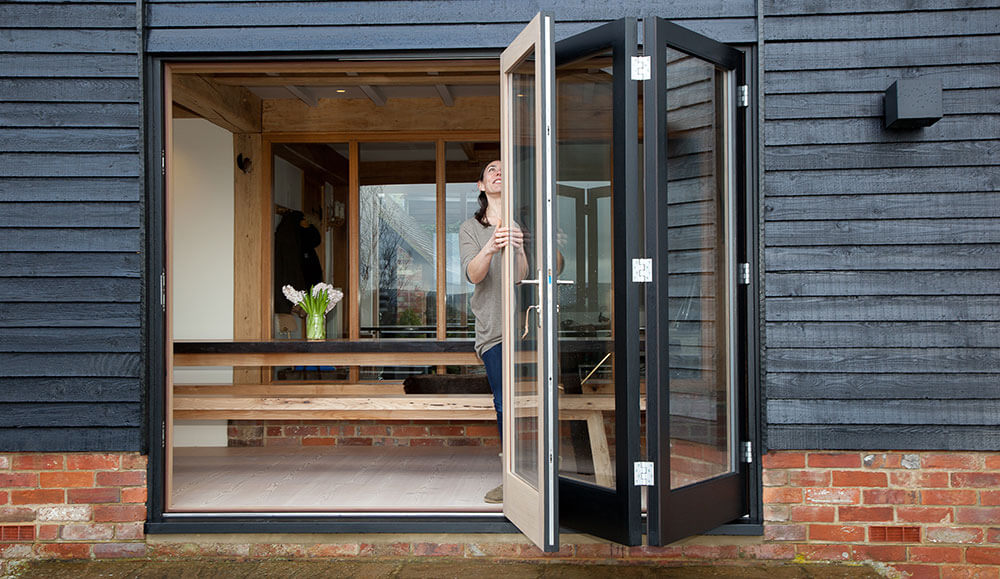 Our team of expert joiners design, manufacture, and install bespoke wooden bi-fold doors within properties throughout Hampshire. Our customers love these convenient, adaptable doors due to the amount of natural light they allow into their properties. Wooden framed bi-fold doors perfectly combine the traditional aesthetic of hand-crafted wooden doors with the flexibility that modern life demands. Plus, because all our joinery is tailored to your requirements, property, and preferences, we ensure that your finished bi-fold doors will continue to lift your spirits for years to come.
Modernise your Hampshire home
Bi-fold doors make a wonderful addition to your property, providing ample opportunities for natural light to flood in whilst also ensuring that you have convenient access to outdoor spaces at all times. Wood provides an excellent option for those considering bi-fold doors; its beauty, strength, and resilience ensure that it can withstand years of use. We also have more than 100 years' combined experience within our team, providing our customers with further peace of mind regarding the quality and durability of our work. As all our bi-fold doors are made-to-measure, we can easily produce designs that accommodate spaces of all sizes. This allows you to make the most of the space you have available and allows you to avoid off-the-shelf alternatives that poorly serve your needs.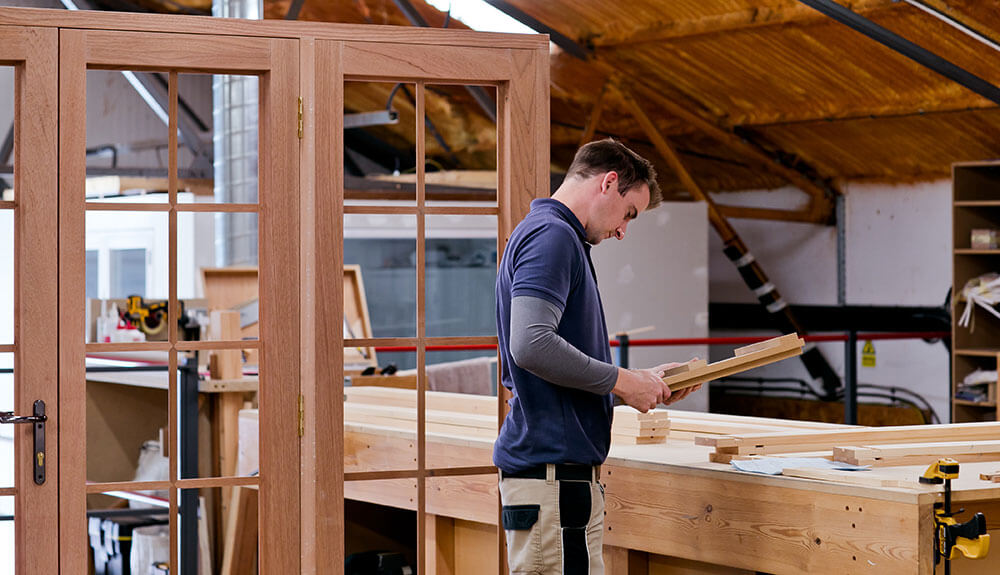 What makes New Forest Joinery the right choice for wooden bi-fold doors in Hampshire?
More than 100 years' combined joinery experience. Our team is ideally positioned to produce the perfect wooden bi-fold doors for your property. Take advantage of our extensive hands-on expertise.
Tailored to your property. Our made-to-measure approach ensures that your wooden doors are the best possible fit for your property and requirements.
Word-of-mouth recommendations. By delivering consistently excellent results, we've built our reputation as skilled joiners upon endorsements from our previous customers.
Commitment to quality. By pairing traditional methods with modern machinery, we produce meticulously- crafted wooden doors that are truly built to last.
Experienced wooden door experts
Our team will ensure that your bespoke wooden door is designed, manufactured, and installed to the highest standard. We have the skills, knowledge, and experience to help you make the most of your home, offering a diverse range of different door styles to suit different needs.